---
Biography
---
Serenade of Darkness was founded by Magus and Andre de Heus back in 1996. Unfortunately this only lasted for a few weeks, because after that, all of a sudden they decided to stop for untold reasons.

In mid-1998, Serenade of Darkness was re-formed by its old members: Magus, Donny Aartse, Daniel ten Brinke, André de Heus The lineup changed a couple of times as Serenade of Darkness' quality started to become serious and professional. In 2000 Serenade of Darkness got a stable and solid formation at the time (André left and Bijl, Demorpheus, Ronald and Wendy joined). Thé perfect formation to record the full length album "In Solitude Engraved" which would be released October 2001.

Begin 2002, the band split up due to some problems, but when magazines as Aardschok and Unleash Metal Magazine wrote awesome reactions for In Solitude Engraved (75/100 and 84/100), Magus realized he didn't want to just leave Serenade of Darkness for what it was. He would continue no matter what the cost! That's when he contacted Demorpheus to ask him to help rebuild the band. Magus in his search for new musicians and he would pick out only musicians worthy to play in Serenade of Darkness. Together they asked Bijl and Wendy to become part of Serenade of Darkness again. They agreed and that's where the quest for any worhty musicians continued.
Without any doubt, they succeeded. Sephtis, Arcaroth and Emile joined the band. Due to personal reasons Wendy left and we're still with the six members left which changed Serenade of Darkness into what it is now; an original, melodic and just awesome performing blackmetal band.

In the meanwhile we have released Storms which made a huge impact on everyone. Crowd, magazines, they all are crazy about the new material. With the lineup as it is right now, Serenade of Darkness is about to conquer the current blackmetal scene!! Serenade has become faster, more brutal and more technical than ever!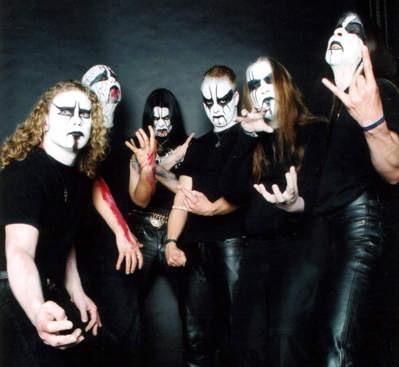 Left to Right
Emile, Magus, Sephtis, Bijl, Demorpheus, Arcaroth